/ Varas nuevas! // New
Stuff! /
Jun.2017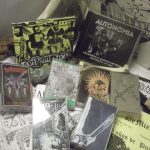 Llegaron varias cosas nuevas desde Mexico y otras partes. ////// Several stuff just arrived from Mexico and other places.

LANZAMIENTOS/ RELEASES:
*KA-040// D.H.K / Bombardeo – la vida es un infierno (split tape)
Este tape salió en Perú hace más de un año pero pasó un buen rato para poder recibir las copias corespondientes a este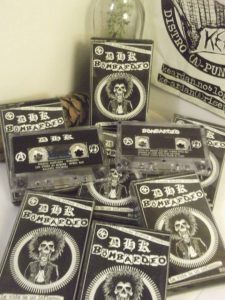 sello. Es genial poder participar en una edición de dos bandas tan geniales, los movidos punks DHK desde Lima de mierda y desde Santiasko, Chile el D-beat más purista del cono sur, Bombardeo.
///////////////////////////////////////////////////////////////
This tape was released in Peru more than 1 year ago but it took some time to receive the copies we collaborate with. It's amazing to participate in this release with this two awesome bands. The Lima hardkore punks of DHK and Bombardeo with the most pure(purista) D-beat from south-america.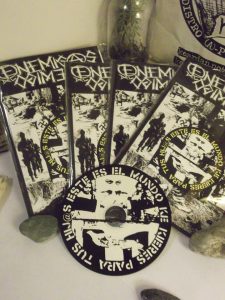 *KA-043// Enemigxs del Enemigo – este es el mundo que kieres para tus hijxs?CD-r
En colaboracion con Aktitud Koherente, sello que estuvo a cargo de este album, sale la ultima producción de estos anarcopunks con más de 10 años en la escena y mucha actitud punk libertaria plasmada en estos 7 rabiosos temas, algunos regrabados y otros nuevos. Viene acompañado con un zine con las letras, dibujos y algunos textos.
//////////////////////////////////////////////////////////////////////////////////////////
In Collaboration with Aktitud Koherente, label in charge of this release, the last album of these anarchopunks is out now. With more than 10 years in the scene and a lot of libertarian punk attitude that you can notice in the 7 angry songs on this CD-r, some new and some re-recordered. It comes with a zine that includes the lyrics, drawings and some articles.
NUEVO EN LA DISTRO//NEW AT THE DISTRO
Vivan los punk-zines! // Up the punk-zines!

*Abominble – n.01
Punkzine // Mexico-España
*Lima de Mierda – n.8 & n.11 //Lima/Peru
*Luciernaga – atrapadx n.10
Anarco-Punk-zine // San Jose/Costa Rica.
*Ortencia – estrabismo n.impar (4?)
Biolo-Punk-zine // Heredia/Costa Rica
*Guerrilla Marginal – n.9
HK-Punk-zine // Acapulco/Mexico
*Hard Kode zine – n.00
Hack-punk zine //C.Mexico
*Libertad en Papel – n.4
Anarco-Punk-zine // San Jose/Costa Rica
*Madriguera de Conejo – n.1
Punk-zine // C.Mexico
* Me Aburro – n.01
Punkzine // Barcelona/España
*Mente Engatilhada – n.06
DisCrustPunk-zine // Brasilia/Brazil
*Mierda – n.01
Cutrepunkzine // Cartago/Costa Rica
*Tarantella zine – n.1
Punkzine feminista // Guadalajara/Mexico
Ruido! / Noise!

*Ek Balam –  que las voces sean viento…/ Vinyl 12″/
*Arrastradxs Bajo un Cielo / Ciudad del Caos – /split/Vinyl 7″/
*Tropiezo / Vivisick – split /Vinyl 7″/
*Digna y Rebelde / Evolucion Perdida – split / Vinyl7″/
*Charged SS – demo /Tape/
*Cadenaxo – belleza mexicana /Tape/
*FZ-10 – segundo demo /Tape/
*Diatriba – despeño de realidad /Tape/
*Dolor – primera maquita /Tape/
*Hatewolf – fullmoon madness /Tape/
*Paranoia – s/t /Tape/
*Las Tripas – mañana sera muy tarde /Tape/
*Doomsday/AKM – split /Tape/
*V.A – El ruido de la destruccion /Tape/
*Generacion Perdida – 20 años atentando y propagando /CD/
*Generacion Perdida – anarkopunks contra el Estado / CD-r/
*Estoy Hart@ – imperfeccion / CD-r/
*V.A – libertad para Jose Demoral. /CD-r(pro)/
*Conflicto – anarcopunks contra el capitalismo /CD-r(pro)/
*Contra Historia – caminando sobre las ruinas de la civilizacion /CD/
PROXIMAS EDICIONES/NEXT RELEASES:
*KA-041// Nos Sobran Los Motivos – para continuar /mini CD-r/
*KA-044// Distrust – CD Mexico tour.
*KA-045// Bazofia / Podridos – split /tape/CD-r(pro)/
*KA-046// Barrakas – Patria de Mierda /CD-r(pro)/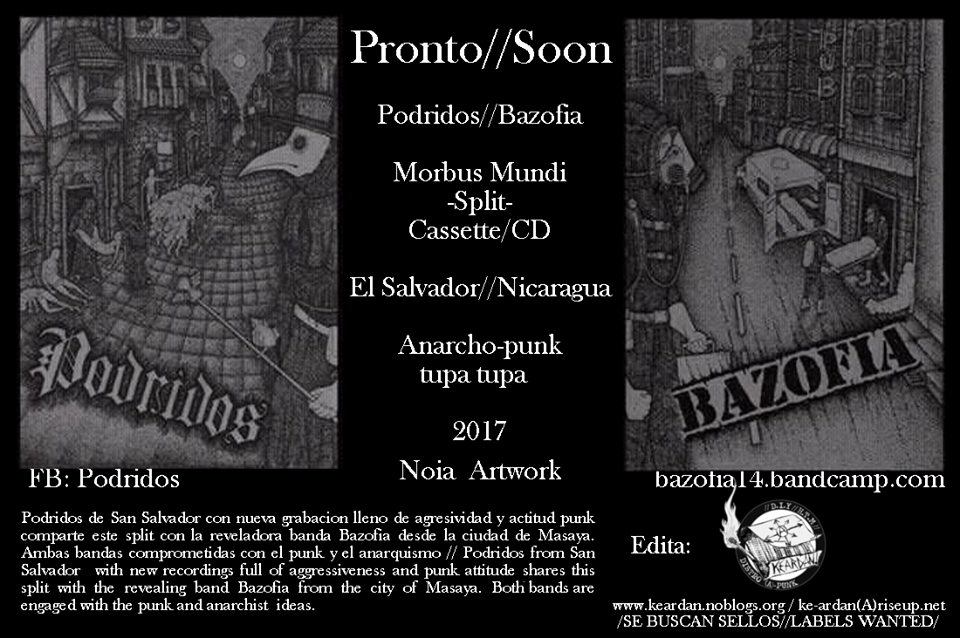 ————————————————————–——————————-
///////////////////////////////////////////////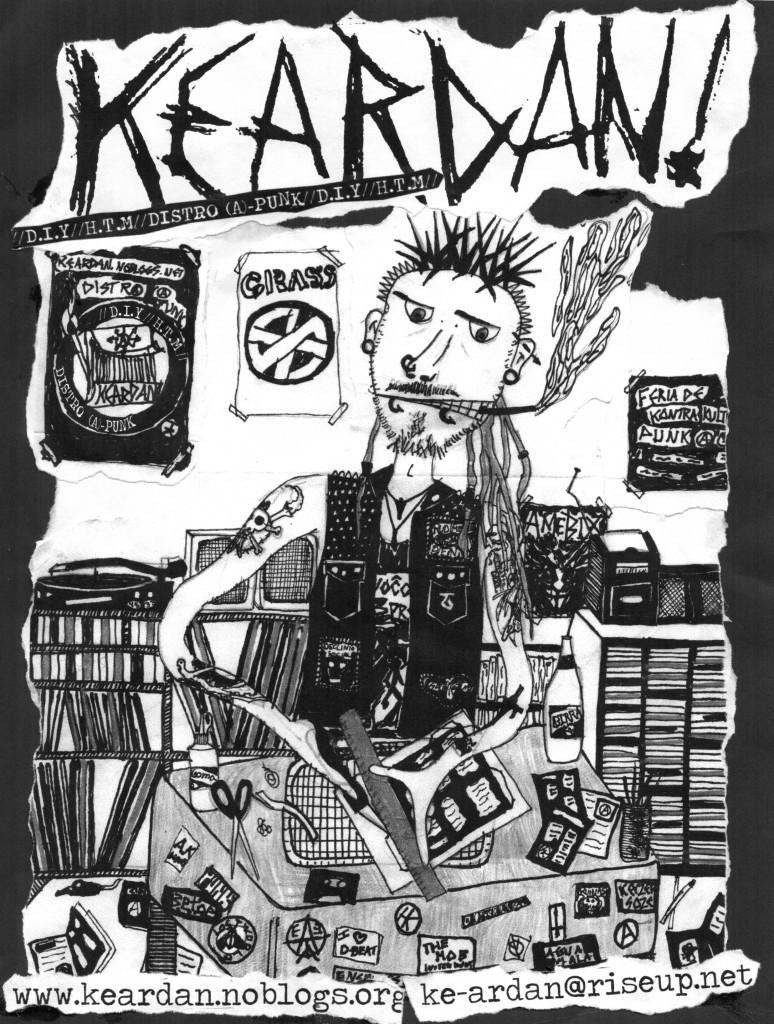 Ke Ardan! es un sello y distro punk y anarquista alojado en San José, Costra Ri$a. Desde el 2006 se trabaja fomentando el h.t.m como forma de creación, así como el trueque en contraposición al sistema monetario. Ke Ardan! y los sellos con los que nos relacionamos, mantenemos una postura anti-sistema, desde una visión libertaria y/o autónoma. Rechazamos cualquier mierda de corte fascistoide, sexista, homófobo, nacionalista, capitalista o religioso. // Ke Ardan! is a punk and anarchist Label & Distro lacated at San Jose, Costa Rica. Since 2006, we encourage the d.i.y as our way of do our stuff, and swaps against the monetary system. Ke Ardan! and the labels we relate, have an anti-system standing and an anarchist and/or autonomous position. We reject all kind of fascist, sexist, homofobe, nationalist, capitalist or religious shit. ke-ardan@riseup.net // Para intercambios o info, escribí a: / For trades or info, write to: ke-ardan@riseup.net
  "…NoBlogs es un espacio virtual donde cualquiera puede abrir un blog o  página, y conpartirla con otras personas que comparten sus mismos sueños. Lo que hace este espacio algo peculiar, es la gente que  lo elige sobre otros servidores comerciales que ofrecen basicamente el mismo servicio (como blogspot, o splinder por nombrar algunos)…" "Conectando a gente radical. Una plataforma de blogs orientada a la privacidad, anti-comercial, anti-fascista y

anti-sexista…".